WELCOME TO STARKE CHURCH OF GOD BY FAITH
Welcome to Starke Church of God by Faith. We are delighted that you have chosen to spend part of your weekend with us. We hope that you enjoy our service and will return to worship with us in the near future.
Bishop James E. McKnight, Jr.
Regathering In-Seat Registration
We are so excited to be gathering back in the sanctuary! This has taken more than a year to happen and it's so awesome that the first service is going to be on the 4th of July! This will be a Regathering Celebration, complete with outdoor festivities. You don't want to miss it! Registration is required in order to be in attendance in the newly designed sanctuary. Space is limited, so make sure to stay connected to get a seat for you and your family/guests. Special precautions are being taken to ensure the services will be safe for all. There are some requirements in order to attend, as we continue to adhere to current CDC guidelines. Be ready for a spirit-filled service! The Word of the Lord reads,
"Not giving up meeting together, as some are in the habit of doing, but encouraging one another—and all the more as you see the Day approaching." Hebrews 10:25 NIV
2021 Virtual Camp Meeting
Looking for the Camp Meeting Breakout Sessions? Want to know more about all of the program participants? Please register today. .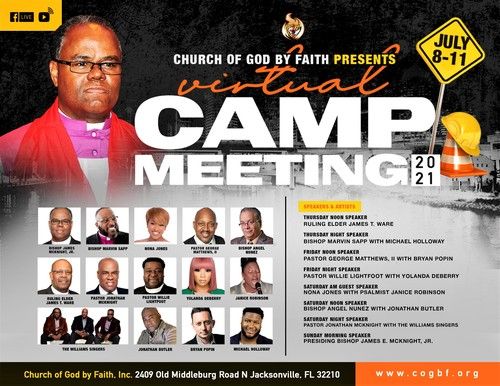 Please click on the link to the right to view live or the latest sermons. You listen with audio on select video to view. The listing below includes an archive of other sermons.
The word of the Lord reads, "For where two or three are gathered in my name, there am I among them." Matthew 18:20 ESV. It is within this spirit that we gather in small, intimate teams where we can fellow and grow together. Please click this link to find a small group today.
Bishop McKnight's Podcast
Adult Sunday School: 8;30am
Elementary (K-4th Grade): 9:00am
Sunday Conversation (Ages 18-35): 9:00am
Middle School (5th - 8th Grade): 11:15am
High School (9th -12th): 11:15am
We'd love to hear from you. Fill out the form below to get started.